6 Easy Healthy Breakfast Recipes To Kickstart Your Day
Posted by ADMIN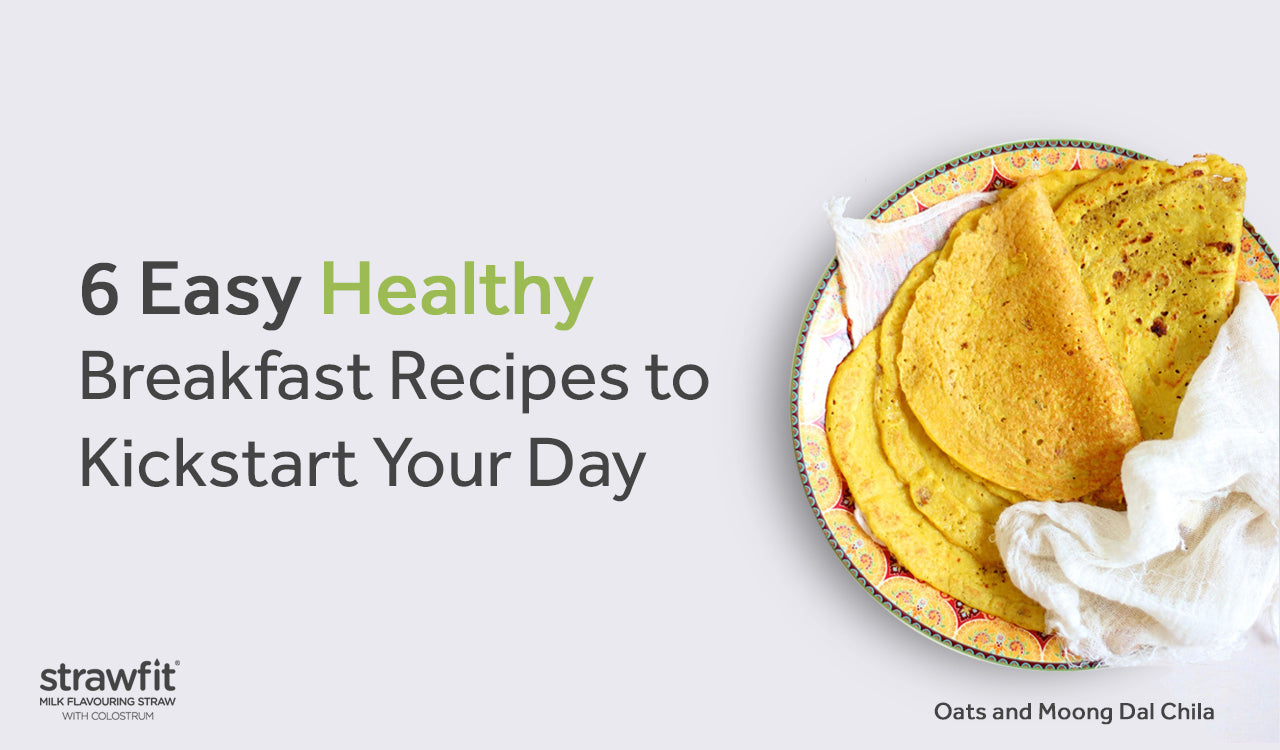 Breakfast is one of the most important meals of the day. However it seems the most difficult to manage under the time constraint. Don't worry. We are here to help you with the 6 easy Healthy Breakfast Recipes to kickstart your day.
You may be a mother, working professional, gym freak or be any, preparing breakfast needs time. It's not just the time that matters. A healthy breakfast does. In fact, it's better to skip breakfast than eating unhealthy breakfast foods. That is why you need to read healthy breakfast recipes that can ease your day.
Your breakfast should have a variety of foods that makes it nutritious and well-balanced. A healthy breakfast gives you enough energy for a long duration. Your stomach feels full and prevents you from eating too much for the rest of the day. Do not miss your breakfast the same way you do not miss brushing your teeth.
Here are the 6 easy Healthy Breakfast Recipes to kickstart your day:



Oats and Moong Dal Chila




Calorie Count 57



 
Oats are highly recommended healthy ingredient to include in breakfast. Oats along with moong dal makes it a perfect fit for a Healthy Breakfast Recipe. One of the biggest benefits of having oats in breakfast is its high-fiber content. Fibre provides several health benefits including: lowering your cholesterol levels, keeping you feel full longer, weight loss, stabilizes blood sugars and promote regular bowel movements.
Recipe:
1 cup Dhuli Moong Dal (soaked for 2-3 hrs)
One cup oats
1 tbsp finely chopped onion
1 tbsp ginger-green chilli paste
Salt to taste
Oil to grease the Tawa
Method:
Soak oats and moong dal in 2 cups of water for half an hour.
Drain water. Grind oats and moong dal to a smooth paste separately.
Mix oats, moong dal, ginger-green chilli paste, onion, capsicum, and salt to taste in a bowl.
Apply 1/2 tsp of oil on a non-stick Tawa. Pour a ladleful of batter on the pan and spread in a circular motion.
Cook on both sides till the oats moong dal chilla turns brown and crispy. Serve hot with green chutney or tomato sauce.
     2. Peanut Butter Banana Chia Seed Toast Sandwich
Calorie Count 158
We would recommend this as a perfect easy one-minute healthy breakfast recipe. Peanut Butter Banana Sandwich is a healthy breakfast recipe that can be packed into a lunch box or stored for a day. This sandwich recipe is not just delicious but also packed with proteins from the peanut butter.
It is rich in proteins from the whole wheat and peanuts and is packed with the richness of the bananas. It makes this super healthy and a perfect energy booster. If you want to have it warm try grilling the sandwich.
Recipe:
Multigrain Whole Wheat Bread / Brown Bread (Depends on your choice)
Ripe Bananas
Peanut Butter
1 table Peanut Butter
Method:
For the non-grilled version of the peanut butter banana sandwich;
Spread the creamy peanut butter onto one side of the bread. Note: Make sure that the peanut butter is at room temperature or otherwise your bread might tear.
Place the banana slices on the peanut buttered side of the slice.
Depending on your taste, you can also sprinkle the cinnamon powder on the top.
Place the other slice of bread on the top and press together.
You can choose to slice the edges off. Cut it half diagonally and serve.For the grilled version of the peanut butter banana sandwich;
Place the above sandwich over a Panini Press Or a Sandwich Maker and grill until crisp.
You can serve Peanut Butter Banana Sandwich with Strawfit in milk. Strawfit is a must-try amazing

milk-flavouring straw

that comes in 3 delicious flavours. According to your taste preferences, you can choose from Chocolate, Vanilla, and Strawberry. Also, the straw is packed with various nutrients that add more nutrition to your everyday breakfast.


3. Banana ZUCCHINI Oatmeal Cups


Calorie count: 120

 
This lightly sweetened healthy Banana ZUCCHINI Oatmeal Cups makes it a perfect on-the-go healthy breakfast recipe. Plus, it is gluten-free. Zucchini is packed with many beneficial nutrients including Vitamins A, C, Potassium, and Fibre. Zucchini is a perfect ingredient to add in healthy breakfast recipes because it: reduces high blood pressure, reduces the risk of stroke and Lowers cholesterol.
Recipe:
1 tbsp ground flaxseed + 3 tbsp water (or you can use 1 egg)
1/4 cup almond butter/ Nut Butter
1/4 cup pure maple syrup / Honey
3 small over-ripe bananas (about 1 cup, mashed)
2 small-medium zucchinis, grated (don't squeeze water out)
1/2 cup almond milk (any milk will work)
3 cups old-fashioned oats (dry, use certified gluten-free if necessary)
1 tbsp baking powder
1 tsp vanilla extract
One tsp cinnamon
1/4 tsp fine sea salt
# Optional add-ins: walnuts and/or 1/4 cup chocolate chips
Method:
Preheat oven to 375F. Spray a muffin tin with cooking spray. You can also line with silicone muffin liners.
Place flax and water in a small bowl. Stir it properly and set aside to "gel."
Place bananas in a large bowl and mash with a fork or any suitable way. Add grated zucchini, almond milk, almond butter, vanilla extract, maple syrup, flax mixture, and stir.
Add oats, cinnamon, baking powder, salt, and add-ins of choice. Stir until combined.
Spoon mixture into muffin cups (you can use a muffin scoop) filling to the top.
Bake for 25-28 minutes, or until a fork comes out clean. Cool it. You can store the cooled oatmeal cups in an air-tight container in the refrigerator.
Tip: To save time, you can prepare this healthy breakfast recipe on a Sunday and store it in the refrigerator. You can use this healthy breakfast item for a week.


4. Beetroot & Sesame Thepla


Adding beetroot to your everyday dish is very important as it contains a good amount of potassium and magnesium. It is also a good source of dietary fiber that is essential for our everyday diet.
Calorie Count: 120

 
Recipe:
1 teaspoon Cumin powder (Jeera)
One Beetroot, grated
1 tsp Red chilli powder
2 cups Whole Wheat Flour
1 tsp Amchur (Dry Mango Powder)
1 tsp Garam masala powder
3 Green Chillies
3 tsp Sesame seeds (Til seeds)
1 tsp Ghee
Salt, to taste
Chilled water, as needed
Method:
Wash and peel the beetroot skin. Grate the beetroot finely.
Take a mixing bowl. Add the grated beetroot. Add all the masala powder, salt, and ghee. Mix all the ingredients.
Add whole wheat flour into the mixing bowl. Knead it to a smooth dough with enough water.
Take a small portion of the wheat flour dough and flatten it using a rolling pin to form a flat round dough.
Heat the Tawa to medium heat. Add the thepla on hot Tawa.
Cook the beetroot thepla for about a minute. Then, flip and cook on the other side for a minute or till done.
Apply butter or oil as required to grease it while cooking. And it's done.


5. Palak Dhania Dosa


Calorie Count: 133

 
Dosa is an everyday staple at home. If you have forgotten to soak the rice and dal, do an instant batter. The instant batter is packed with protein, fiber and can be turned to great taste by using spinach and coriander. You can optionally add green chillies and onions to make it spicy and delicious. Serve the Spinach And Coriander Dosa along with coconut chutney for a wholesome healthy breakfast. This makes it an easy healthy breakfast recipes to kickstart your day.
Recipe:
1 cup Spinach, finely chopped
1 Onion, finely chopped
1/4 cup Coriander (Dhania) Leaves, finely chopped
2 Green Chillies, finely chopped
1 cup Whole Wheat Flour
1/2 cup Sooji (Semolina/ Rava).
1/2 cup Instant Oats (Oatmeal)
1 tbsp Whole Black Peppercorns, coarsely pounded
Method:
Blend spinach leaves and coriander in a mixer grinder to make a fine paste.
In a mixing bowl, add whole wheat flour and a little water until the batter is thick.
Add the spinach and coriander paste, onions, oats, pepper, green chilli and mix well.
Add water to adjust the consistency of the batter to make it thick flowing.
Take a scoop of this batter and drop in the center of the tawa.
With the same ladle, start spreading it evenly in an outward circular motion.
Add a few drops of Olive oil from the sides and in the center as well.
Roast the dosa till the bottom starts getting brown. Roll in the dosa and transfer into a serving plate.
Serve the Spinach And Coriander Dosa along with coconut chutney.


6. Peanut Butter Energy Bites


Calorie Count: 180

 
This healthy breakfast recipe uses 5 ingredients to make Peanut Butter Energy Bites. These bites are loaded with old fashioned oats, flax seeds, and peanut butter.
Peanut Butter Energy Bites are a must-have healthy protein-packed breakfast. They are called as power balls or protein bites.
These energy bites are no-bake, super easy to make and take less than 10 minutes to prepare.
Peanut Butter Energy Bites are packed with protein, fiber, and healthy fats to keep you full and loaded with energy throughout the day. Let's check how to make this easy healthy breakfast recipe.
Recipe:
Creamy Peanut Butter
Old fashioned oats
Flaxseed (wheat germ/ chia seeds)
Honey
Dark Chocolate Chips.
Method:
To prepare Peanut Butter chocolate chip energy bites, combine all 5 ingredients in a medium bowl.
Stir to combine. Place in the refrigerator for 20-30 minutes so they are easier to roll.
Roll into bites and store in the fridge for up to a week.


Voila! We shared with you our top 5 easy Healthy Breakfast Recipes that are both healthy and tasty. If you would like to reach us, don't forget to comment below.




Also, Read - 5 Unique and Trending Food Gift Items For 2020
Collection 2019
Sale 70% Off
Title for image