5 Easy Gift Ideas for kids | STRAWFIT Get online with Free Shipping
Posted by ADMIN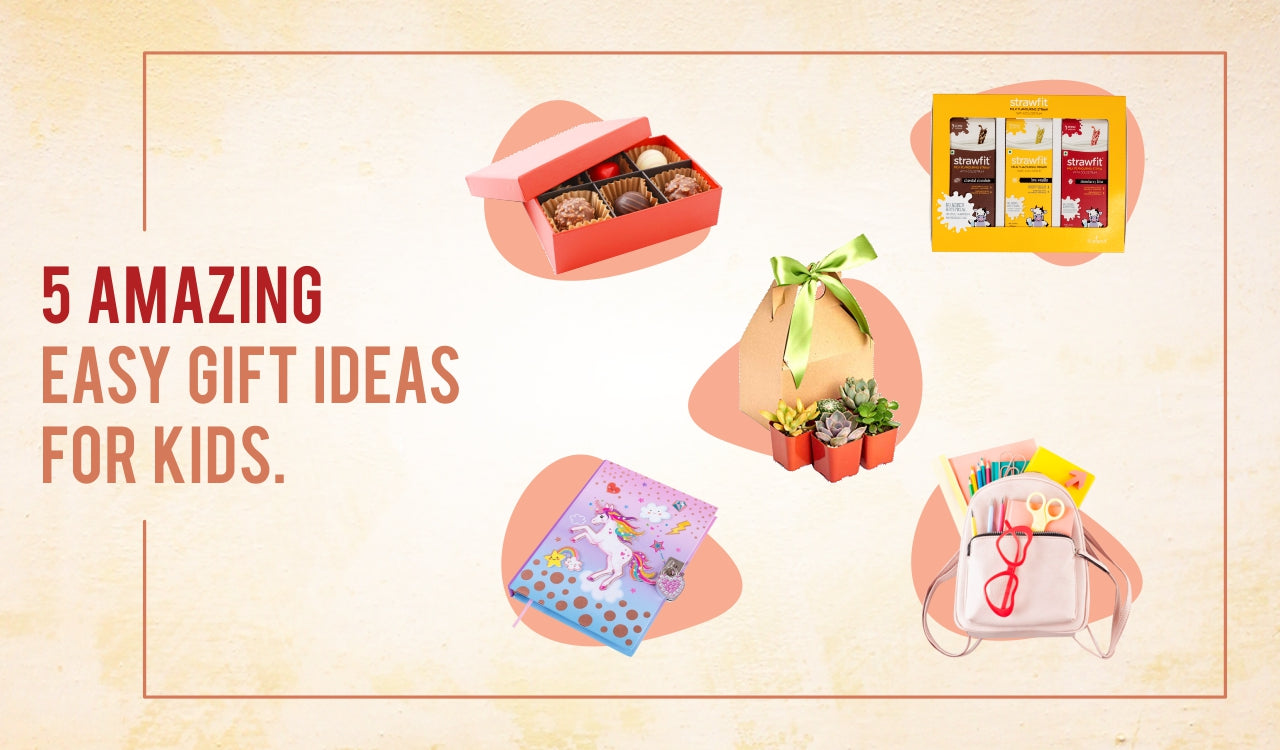 5 Easy Gift Ideas for kids | Get
STRAWFIT
online with Free Shipping.
Kids Love Gifts and there is no doubt about this fact. We often ignore kids while exchanging gifts on special occasions like festivals, new year or any other family celebration. Why not plan to gift something unique to kids that is both age-appropriate and fun and include easy gifting ideas for kids in your list. To make it a bit easier for you, we are sharing a few -
5 Easy Gift Ideas for kids that you can include in any gift hampers and baskets:
Chocolate/Toffee Hampers:

Kids always have a sweet-tooth for Chocolates, Candies, Confectionery Treats and Toffee. Chocolates come in budget and are liked by everyone. Try to include both choco-based and milk chocolates, candies and toffees to make the gift look enormous. There are a large number of online websites that deliver Fancy chocolate hampers.
One Tip: Include different sizes of Chocolates from small to big and tie them with a ribbon. Fill Toffees in Fancy Goodie Bags.
Milk-Flavouring Straws by Strawfit:

Try out this unique Gift with the milk-flavoring energy straws from Strawfit. The Strawfit gift Hampers contains packs of 3 flavors- Chocolate, Strawberry and Vanilla that are all absolutely loved by kids. Each straw contains Colostrum and 30+ essential vitamins and minerals that make it nutrient-rich. The size of Strawfit Gift Box makes it a perfect and healthy gift to give. Kids love sipping milk from the straws making it a very useful gift and best Gift Item for kids. You can get
Strawfit Hampers online and has FREE SHIPPING across the nation.
One Tip: Since the size of the hamper is perfect, it makes good enough even if taken alone in the replacement of sweets.
Art Items:

Art-related gifts make delightful gifts and are a great option to boost your child's creativity. Kids usually enjoy making Rangolis, drawing, coloring, painting, and crafting. You can gift them from a range of art stationery that includes scented markers, coloring paints, crayons, drawing sheets, sketchbooks, coloring, and doodle books. An artful Gift idea for kids.
One Tip: Try to include 1 or 2 items from the mentioned above to give it a complete look. Ex- You can add Crayons and a sketchbook or dreamcatcher kit.
Books and Diary
Why not try to encourage reading in every Kid? Including a book in the gift basket is a good choice. There are many colorful and plain books available in book stores. The online space is flooded with creative looking Diaries and stationery items.
One Tip: Prefer including pocket-sized books and diaries in the Gift Box over big-sized ones.
Seeds packed in fancy wrappings
Yes, you heard right. This is the most inexpensive yet useful gift to give. In the wake of being a good citizen, it's important to incorporate the habit of planting trees. Take a seed of your choice. Attach a note to it that says - the benefits of the plant and manual that guides on how to plant. Kids will take this as a game and would do it responsibly in fun.
One Tip: Gift Easy-to-Grow Plants for kids that includes tomatoes, sunflowers, etc..,
Few points to note while making gift Hampers are:
⦁ Fillers: Filler lifts the contents of the hampers and makes them more presentable. Even some scrunched up paper works fine and fills the void and space.⦁ Wrapping: Ribbons looks wonderful when added to a basket or a box. It completes the gift and makes it look more promising. We hope the article helped you find some unique gifts for kids for any occasion.
Collection 2019
Sale 70% Off
Title for image